Organization
Siauliu "Sauletekio" gymasium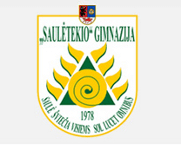 ---
Mr. Rimkuviene Jurate
Organization
Siauliu "Sauletekio" gymasium
This is a typical gymnasium in the town Siauliai in the North of Lithuania. There are 260 students (aged 15-19) studying and 40 teachers teaching at this gymnasium. We offer 1st and 2nd-year gymnasium students a course on Biomedical sciences (Biology, Chemistry). Gymnasium is the leading school in robotics in Siauliai city and in the whole country. We participate and organize national and international tournaments. We work with other institutions and businesses to promote robotics in schools. Gymnasium offers also sports direction. In addition, students receive several lessons per week in sports. However, these are not just physical activity lessons, they are theoretical. Students learn strategy and tactics in team sports. Learn to referee and organize sports events. The languages taught at our gymnasium are English, German, Russian and French. We are not in the disadvantaged area, we have students with special needs and our school uses ICT and is creative in terms of teaching. School vision: In a rapidly changing life our gymnasium has established flexible rules in target to be open to modern society and help students to achieve harmony, be environmentally friendly and acquire new useful knowledge for it. Our activities are based on cooperation, scientific achievements, using modern technology. Also, we ensure safety school community, which is constantly open to changing and improving our education system. The curriculum allows students to provide different abilities and needs necessary for basic and secondary education. Our Mission: To provide high-quality secondary education, depending on the student's needs and abilities. Priorities: high-quality educational services; creating comfortable atmosphere for communication and cooperation; using modern techniques and technology; an effective leadership. Gymnasium motto: the sun shines on everyone (Sol lucet omnibus..). We are a small community so we can focus on each student and help them find their way.
Experience in the implementation of educational projects aimed at young people
In 2009-2011 our gymnasium participated in a Comenius project "Cultural and Gastronomic Rendez Vous", in 2012 we carried out an Twinning project "Blick hinter den Kulissen: 2 Kulturen im Vergleich". The teachers who participate in the project activities at our gymnasium are creative, enthusiastic, open to innovations and have competences in using IT in their lessons and integrating foreign languages and other subjects (Music, Biology, History). We are involved in different national projects, such as "Young Researchers" Explore and Protect Nature"Sustainable School".Each time our students and teachers participate in E- twinning projects, conferences and share the experience with other neighbourhood schools, social partners and Municipality. Also, this project will help our students (especially with special needs), to better understand each other, make totally different ways of curricular, present new material, ways of teaching and studying, collaboration and making new friends. In this rapidly changing world, it's a very important thing. A new era of partnerships in projects started in 2016 year, in this year we started ERASMUS+ KA2 strategic partnership projects. After that in 2018 we started 4 new ERASMUS+ KA2 strategic partnership projects. Due to pandemic situation couple of projects was longer than 24 months. In 2019 we started new project with partners from Baltic states, where we created inovative language learning tool.
Lieporiu str. 2

LT-78244
Siauliai

Lithuania