Organization
Mykolayiv Lyceum No. 22 of the Mykolayiv City Council of the Mykolayiv Region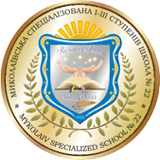 ---
Pavlo Bohun
Organization
Mykolayiv Lyceum No. 22 of the Mykolayiv City Council of the Mykolayiv Region
Art
Children
Drama and theatre
Entrepreneurship
Innovation
Integration
Intercultural dialogue
Non-formal learning
Self-development
Sustainable development
Mykolayiv Lyceum No. 22 is an educational and cultural center of the city. Forty-two classes are our school family. Pedagogical and student teams together solve the problem of creating an information and educational environment of the school, forming media culture and media literacy. In-depth study of English and German as a second foreign language contributes to the comprehensive development of students' personality. For many years, students of the school have been participating in the ACCELS and FLEX programs, and the winners of the competitions have traveled to the United States to study. Each year, the school is one of the five best schools of the city. Students, parents, teachers are united by one goal: to create not just a school but an institution of joy, creativity, happiness.
Experience in the implementation of educational projects aimed at young people
Our school is actively working on the implementation of socially important initiatives in a sphere of non-formal education; development and acceleration of youth with obstacles (health, economic, social factors) through providing them with tools of social projecting; habit acquisition of collective decision making among youth through activation of dialogue and developing of communication skills. To achieve named aims, we hold workshops, seminars, trainings and discuss-clubs on self-employment and entrepreneurship, active citizenship and healthy lifestyle. In assistance with our strategic partners we are implementing international projects of mentoring and job-shadowing for young people. Among the projects we should name "Student's Health," "Leader - 22," "Young Linguist," "Azimuth," "Horizon," which aim to develop a modern, high moral, creative, competitive and socially adapted personality of the student.
Robocha st., 8

54029
Mykolayiv

Ukraine