Organization
Mykolaiv National Agrarian University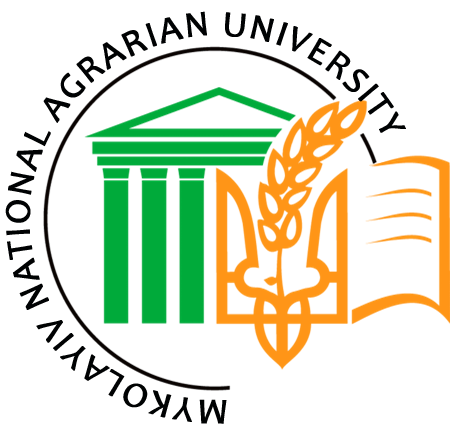 ---
Vitalii Karbashevsky
+380933549322/+380512709342
international@mnau.edu.ua
Organization
Mykolaiv National Agrarian University
Animals
Art
Entrepreneurship
Environment
Health
Innovation
Leadership
Policy making
Rural development
Sustainable development
Today Mykolayiv National Agrarian University is an educational and research institution of higher education in southern Ukraine. MNAU trains specialists in the field of agronomy, mechanization of farming, livestock, economics and management and is the second most prestigious agrarian university in Ukraine with a student body of 6,000 and a faculty of more than 400. Mykolayiv is a very beautiful city, situated in an important agricultural region of southern Ukraine, close to the Black Sea and Odesa. The University conducts innovative educational activities for different levels of higher education, conducts basic and applied research; it is a leading scientific and methodical center, which has developed infrastructure of educational, scientific and industrial divisions; also it promotes scientific knowledge dissemination; provides the needs of society, state and labor market for qualified specialists; conducts cultural and educational activities. University has 11 buildings with a total area of 89731 m2, including 69,735 m2 of educational and laboratory facilities. Here in the Mykolaiv region, we have 1320 hectares of arable land, which make up 16 experimental fields with variable land composition and terrain features. Computer classrooms have both wired Internet and Wi-Fi, which provides staff and students access to modern sources of information. Students can use the dormitories, dining rooms, sports facilities, libraries, and reading rooms, which are located at the Mykolayiv National Agrarian University campuses. University's hostel # 2 is situated 50 meters from the main academic building. Hour security groups and curators will provide continued safety of residence. The University has a student cafeteria of up to 400 people as well as 3 buffets. The complex of sports facilities consists of four halls. The total area of sports facilities is 3034,1 m2. Three Assembly halls of the University can accommodate up to 740 people. An important role in the educational process plays University Scientific Library, which remains the main source of the formation of theoretical knowledge of students. The total area of the Library is 1594 m2, depository's area - 272 m2. The library has eight reading rooms, with specialized and fiction literature, free Wi-Fi, and computers.
Experience in the implementation of educational projects aimed at young people
MNAU works with the majority of grant/stipendium programs, trying to give students the best opportunities in their growth as a specialist and comprehensively developed personality. Fields and topics, we would like to develop cooperation in- 1) In order to support the active life position of young people and increase the level of competence of young people for their participation and integration into public life, as well as to deepen cooperation and exchange of experiences between youth workers, we propose for joint implementation the project "Creation of Youth Councils under local governments in the territorial communities of Ukraine and the Republic of Poland". Youth Councils, as advisory bodies, will ensure the participation of young people in making important management decisions and support youth initiatives from territorial communities of Ukraine and rural areas and small towns of the Republic of Poland. 2) In order to strengthen youth initiatives and solve the problem of employment of young professionals, we propose to implement the project "Assistance to youth in employment after graduation". The project will provide an opportunity to deepen cooperation between higher education institutions, local governments in Ukraine and the Republic of Poland and will promote the establishment of appropriate employment centers at higher education institutions.
Georgiya Gongadze str, 9

54020
Mykolaiv

Ukraine